A decrease in the price of stainless steel is not to be expected.  Even if the steel component of stainless steel does not increase at the same rate, the alloy surcharge component, which varies from month to month, continues to increase at impressive rates.  The prices of chromium and nickel, the main metals that make up the extra alloy, are still under strong pressure on the international markets.
Of course, the price of a given material, both wire and flat, also depends on the desired quantities (MOQ) of wire diameters or thicknesses (drawing and winding costs or rolling and slitting costs).
Price development of alloy surcharge for stainless steel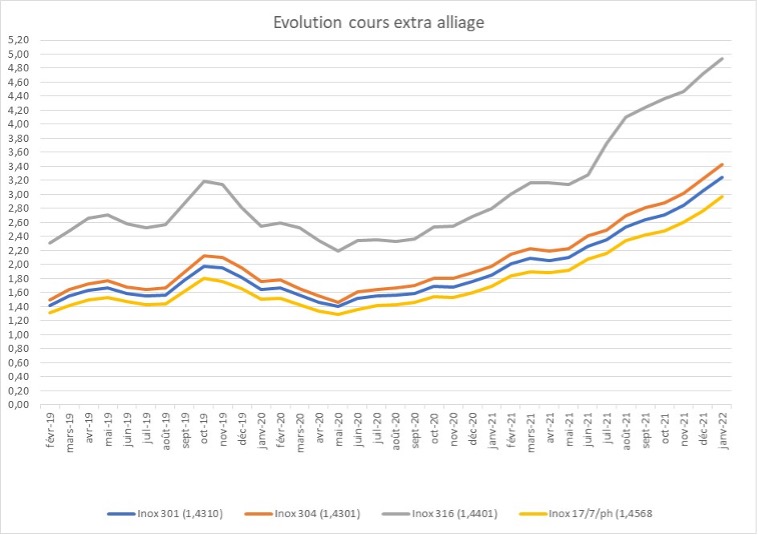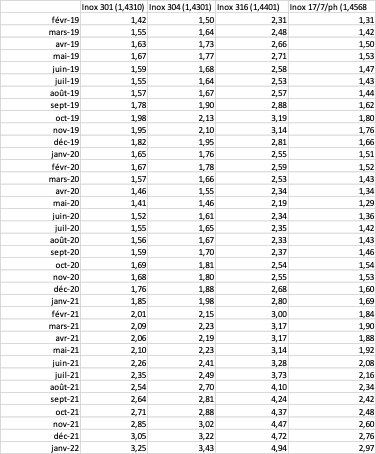 Filame recommendations
Filame makes every effort to try to satisfy its customers to the best of its ability according to the availability of its stocks and those of its suppliers. To mitigate the effects of the situation Filame has developed a very large supplier base for both the most common steels and stainless steels. But the inventory status at suppliers is extremely low and it is not always easy to find material within acceptable deadlines.
Filame cannot currently guarantee either the delivery times requested by its customers or the maintenance of prices from one order to another or from one month to the next. In particular, Filame will be obliged to pass on the increase in material costs according to the stocks of material that it can find on the market and the prices obtained from its suppliers.
Filame asks its customers to send their order forecasts sufficiently in advance to allow them time to find the material necessary to meet their needs, while avoiding over-ordering in order not to worsen the overall situation. Filame asks her clients not to hesitate to contact her so that together we can analyze the situation and the best way to act.
Filame also recommends that its customers order promptly after receiving an offer to avoid a price increase between the time of the offer and the time of ordering. The delivery times indicated in an offer are given to the best of Filame's estimates but cannot currently be considered as a firm commitment.
This is a never-before-seen situation that all contractors like Filame face and which is beyond their control. We regularly publish on our website (www.filame.com) and on our Linkedin page (do not hesitate to follow us on this page) news relating to the development of this situation.
Découvrez nos capacités de production pour vos pièces à base de fil et de feuillard sur mesure