The prices of raw materials (steels, stainless steel, aluminum and special alloys) continue to increase and delivery times are getting longer. What should we expect and what are Filame's recommendations?
Since the 3rd quarter of 2020 the price of raw materials, whether steels, stainless steel, aluminum, special alloys, have increased significantly. At the same time, delivery times have grown considerably.
We ask our customers to pay attention to the recommendations that Filame makes at the end of this newsletter. Indeed, the most recent projections given by all industry players show that this situation is not going to end.
Price increase
The following chart for hot-rolled steels shows the extent of the increase.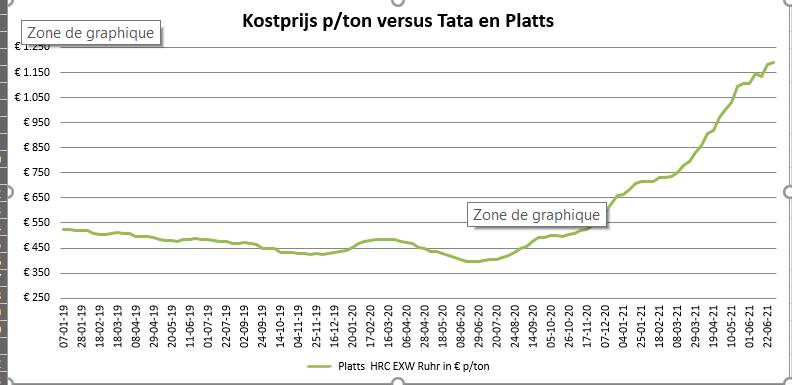 In terms of stainless steel, the alloy surcharge (that is to say the cost of the share of nickel and chromium) which varies every month is also increasing sharply, which means that the prices of stainless steel, in all qualities reached record levels.
The forecasts for August and September show a persistent increase.

In this regard, it must be taken into account that the price of the alloy extra is that of the month of delivery. Between order and delivery, there may therefore be price increases that manufacturers will have to pass on.
These price increases are also caused by the strong dependence of European markets on Asian producers and the situation prevailing in these markets. Taiwan, Korea and China no longer export or almost no longer export stainless steel to Europe and stocks of European producers are at their lowest (see details in New Letter from nova Trading attached).
Delivery times
Delivery times have become extremely long. For stainless steel, most producers are already not accepting orders for 2021.
Added to this is the increased delays in container shipments from Asia (in addition to the increase in the price of such shipments). For these reasons, it is not uncommon to see delivery delays or even cancellations by some producers or distributors.
Special alloys, such as aluminized steel, Inconel, Nimonic, Elgiloy are very difficult to obtain. For more details, see the Nova Trading Newsletter below.
Filame recommendations
Filame makes every effort to try to satisfy its customers to the best of its ability according to the availability of its stocks and those of its suppliers. To mitigate the effects of the situation Filame has developed a very large supplier base for both the most common steels and stainless steels. But the inventory status at suppliers is extremely low and it is not always easy to find material within acceptable deadlines.
Filame cannot currently guarantee either the delivery times requested by its customers or the maintenance of prices from one order to another or from one month to the next. In particular, Filame will be obliged to pass on the increase in material costs according to the stocks of material that it can find on the market and the prices obtained from its suppliers.
Filame asks its customers to send their order forecasts sufficiently in advance to allow them time to find the material necessary to meet their needs, while avoiding over-ordering in order not to worsen the overall situation. Filame asks her clients not to hesitate to contact her so that together we can analyze the situation and the best way to act.
Filame also recommends that its customers order promptly after receiving an offer to avoid a price increase between the time of the offer and the time of ordering. The delivery times indicated in an offer are given to the best of Filame's estimates but cannot currently be considered as a firm commitment.
This is a never-before-seen situation that all contractors like Filame face and which is beyond their control. We regularly publish on our website (www.filame.com) and on our Linkedin page (do not hesitate to follow us on this page) news relating to the development of this situation.
Nova Trading Newsletter